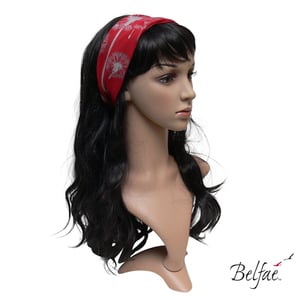 $

20.00
Name of Design: Belfae Dandelions
Colour: Bark, Biro, Black, Blood Orange, Brick, Mist, Peony, Rafter, Treehouse, Turquoise, Vanilla.
Print Colour: Black, Silver
It's a miniature scarf for your head; you can tie it to suit your look. Use it to hold your hair back, or simply to make a statement.
The bamboo jersey of a Belfae head-band is very soft on your skin and you can wear it in a whole range of ways. Bamboo is breathable and cool to wear, so you can use these all year round.
The Dandelion print appears once on the scarf, starting from the middle and going down one side.
Dimensions: 100cm long x 20cm wide
Fabric: Bamboo 96%, Spandex 4%
Designed and Made in Australia
FREE POSTAGE & HANDLING AUSTRALIA WIDE