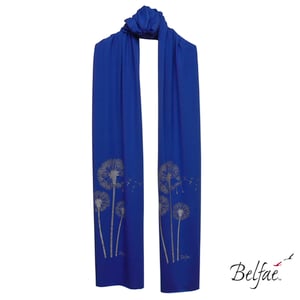 $

38.00
Name of Design: Belfae Dandelions.
Colour: Biro (blue).
Print Colour: Silver.
The bamboo jersey of a Belfae scarf is very soft on your skin and you can wear it in a whole range of ways. Knot it. Tie it. Drape it. It's very versatile!
Wrap it loosely and it's light enough to wear in spring and summer. Tie tightly and it will keep you warm in autumn and winter. And it will always fit.
Dimensions: 205cm long x 36cm wide
Fabric: Bamboo 96%, Spandex 4%
Designed and Made in Australia
FREE POSTAGE & HANDLING AUSTRALIA WIDE